www.brewersperformance.com/store.asp

As time progresses, mechanical and cosmetic improvements are incorporated into our current designs and become standard. Most changes will be minor, but some cosmetic designs are very noticeable.
Please call 937-947-4416 or 937-698-4259 for any Ordering Questions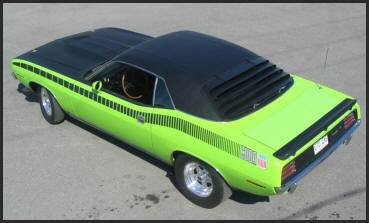 70 CUDA
Grill trim
The Upper and Lower grill straight trim is in stock. These long trim pieces are different and will not interchange. When ordering, you must specify if you want a top or bottom. We are presently working to produce the correct headlight bucket trim. It is a complicated part to reproduce correctly. When completed, we will post it to our website. The Cuda grill trim is made of stainless steel and polished to a high luster finish. The straight pieces clip on the plastic risers of the grill and pry off easily. The headlight buckets is complicated to remove. There are 5 plastic risers on the headlight bucket. 1 each (top & bottom) near where the straight pieces attach and 3 around the corner edge. To remove the stainless trim, lift the trim up in the center of the corner. When the trim clears the 3 corner risers, you must slide the trim out of the back 2 risers. See Photos. If you do not slide the bezel trim out of these groves, you will damage the trim.
Set of 2 Straight trim

$200.00 plus $14.50 shipping
Top Straight trim
$125.00 plus $14.50 shipping
Bottom Straight trim
$125.00 plus $14.50 shipping